Nucs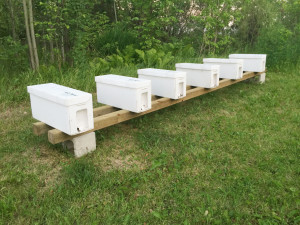 Each summer, we make our own Manitoba nucs for next years' increase and winter loss replacement. A nuc is simply a 'baby hive' made up of 2 frames of brood from a strong donor hive and 1 frame of pollen/honey. They are put into 5 or 6 frame boxes and allowed to establish themselves with a new queen. We graft our own queens during the summer from proven local stock. If the queen is acceptable, the nuc will grow and will be ready to be moved into a larger 10 frame hive mid July or wintered as a nuc.
The photo on the right shows 6 nucs in Jester nuc boxes. They are five frame corrugated plastic and make excellent nuc boxes due to their portability. Since we move nucs to a new yard after making them, these boxes are great because they have an easy to close entrance and can easily be gripped for handling. Sometimes we make nucs directly with our wooden 6 frame nucs and that also works well.
For more information on our process, we have a article on our nuc making process.
We have nucs available for sale available in Mid-May. All nucs are 4 frames and come with 3 frames of brood and one honey/pollen frame. Due to the limited supply, we will require a down payment for all orders. Four frame nucs are priced at $200.