Queen Rearing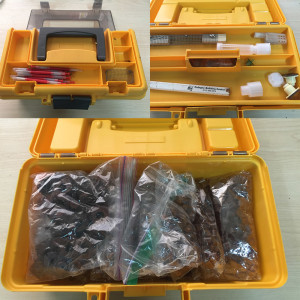 When you are planning on grafting, that it is important for you to have all the necessary tools and equipment with you. I have found it best to put all the material is together in a small tool box and I take it with me whenever I'm planning on grafting. While this is not necessary if you're on a home yard, many beekeepers like myself also graft in the outyards.
Here are some photos of my grafting kit. It contains most of the Nicot system, queen cages, jzbz cages, and a few homemade items. The photo was taken in the off season, so many parts are removed that I would usually have with me.
A grafting toolkit should include:
Cell cups (jzbz and Nicot)
Grafting tools (have spares because they break)
Queen cages
Introduction cages
Push-in cages
Marking pen & Queen markers
Spare parts of the entire Nicot Queen Rearing System (cell cup holder, cell bar holder)
I also take a warm, wet rag with me with I graft. That is the only thing that you need remember to prep/take along besides the grafting frame. Yes, I have forgotten the rag a time or two but it's nice to have everything else along.
This can be a time saving kit because the last thing you want, is to leave necessary supplies a home.